Luminous Arc Review
Posted March 25, 2009 by ChangingFaces (161)
Strategy RPGs are few and far between, and genuinely good ones are even scarcer. When I first heard about the release of Luminous Arc I was hopeful, but skeptical. The game was published by Atlus, the same software company who publishes the famed Disgaea games, which are a standard when it comes to SRPGs. But while Nippon Ichi has a green thumb when it comes to cultivating awesome SRPGs, the creators of Luminous Arc (Marvelous Interactive Inc.) seem to have an awful lot of weeds in their garden. While Luminous Arc is far from a horrendously bad game, it also doesn't soar to the heights that the build-up prior to the game's release would have you believe. And thus, with Luminous Arc 2′s release just around the bend I feel it's time for a long overdue review of the first in what appears to be a fledgling franchise.
The Story:
The story revolves around Alph (no, not the 80′s Muppet-like thing from space who ate cats) and his cohorts who were all orphans brought up within the church's teaching and formed into a special group of warriors known as the Garden Children. Their primary mission? To locate and exterminate Witches. What did said witches ever do to them? Not a damn thing. Prejudice, anyone?
The fictitious world in which Luminous Arc takes place is in the choke-hold of the church which acts as a government, complete with their own military. As a cover, the church is righteous and prestigious. But beneath this façade lies a darker truth. The church secretly seeks out sacred stones known as Lapistier which will allow them to take control of the world. Meanwhile they place the focus and public attention on the Witches as being 'evil' to distract from their ulterior motives.
Did any of the above sound familiar? Well, aside from the whole 'Witch' thing, the story is strangely familiar to Final Fantasy Tactics. The church within Luminous Arc seeking the mystical Lapistier is, essentially, a painfully obvious ripoff of FFT's main plot… which revolves around a corrupt church seeking the sacred stones known as Zodiac Stones, aka Magicite, aka Auracite.
In all this story falls flat. It fails to hold interest and even though a good number of details are plagiarized from a far superior SRPG, they aren't re-produced particularly well. There are far more generic plots in games out there, but there are also far better.
Between chapters to the main story is a brief (and often weird) intermission from one (or more?) of the strange Kopin creatures prominent throughout the game. These short stories are fun, and sometimes can generate a chuckle. But then it returns to the main story. What a killjoy.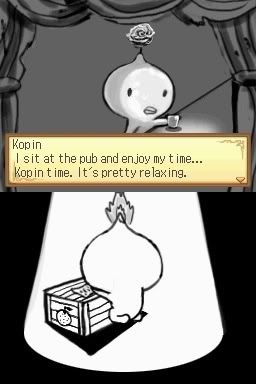 And then, after I'd had a few drinks, I returned home and buried her in the back yard… *scribble, scribble*
The dialogue exchanges are clearly thought-provoking enough to rival Shakespeare
Gameplay:
Heavens to Betsy, the plagiarism never ceases. Rather than trying to set itself apart with a unique battle system which could possibly make this game stand-out from others of the genre, it instead chooses to all but duplicate another game's battle system and add no innovation whatsoever. Upon your first battle in Luminous Arc you'll notice that the look and feel of everything is suspiciously similar to Final Fantasy Tactics Advance for the Game Boy Advance. In fact, if you ever played the latter you'll instantly know exactly how to play Luminous Arc.
Mirror, mirror on the wall, who's the most original one of all?
When you build up enough JP… err… I mean FP your character can unleash a super attack (think Limit Breaks from Final Fantasy VII or X) to wreak havoc on the enemy. Said attacks are accompanied by a completely glitchy flash of pixelated gibberish that may make you think your characters have just discovered a rift in The Matrix. I swear, the first couple of times I saw it I thought for sure that the MissingNo. from the first two Pokémon games were going to attack my party. And this glitch happens every single time you use one of these skills.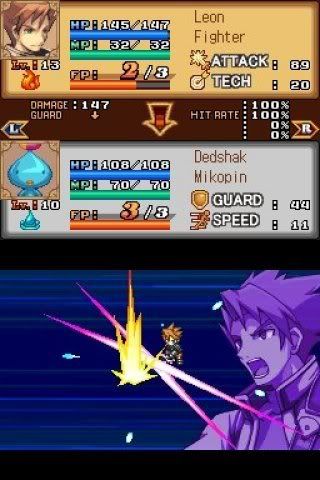 If the Flash Drive itself doesn't kill your enemy there's always the off-chance they may die from a seizure following the flashing graphic glitches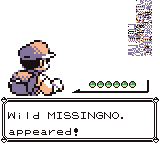 "Honey, it's happening again! Can you get me my pills?"
Battles are long and drawn-out, which can make level grinding tedious and extremely boring. It usually takes several turns of attacking an enemy (or them attacking a party member) before they finally submit and keel over. The EXP. curve seems rather strange, and I find I earn very little EXP. even from enemies of equal level to my own party. Unfortunately, there seems to have been some sort of poor planning on magic damage calculation. No matter what type of Magic-boosting equipment I give my spell casters, their magic spells always do pitiful damage. It's to the degree that physical attackers are basically your only method of inflicting serious damage on your foes.
This spell looks as though it's merely drenching the enemy. And that's effectively how powerful it is, as well…
Thanks for rating this! Now tell the world how you feel via Twitter.
How does this post make you feel?