Tatsunoko vs. Capcom Review
Posted February 12, 2010 by Jallen (77)
Pros:
• Great graphics and animations
• Varied roster
• Accessible controls/mechanics without sacrificing depth
• Online play is pretty smooth
Cons:
• Not a lot of single player modes to choose from
• Online matchmaking is pretty poor
• Balancing issues
Are you a Wii gamer? Are you tired of playing Super Smash Bros. Brawl? Are you looking for a more traditional fighting game to play? If you answered "yes" to these questions then you are ready to play Tatsunoko Vs. Capcom. The newest entry into the Capcom Vs. series of excellent games and Tatsunoko does not disappoint. This simple yet deep fighter is everything hardcore fighting fans have been waiting for and a great starting point for more casual players to get into the fighting scene. If you are like me you are probably wondering who or what Tatsunoko is. Tatsunoko is an anime production house that has made some pretty popular shows including; Gatchaman, Speed Racer, Tekkaman, and Samurai Pizza Cats. Most of us western gamers will not know most of Tatsunoko's side of the roster, but you do not have to know or care to enjoy this game and the individual players.
Is that a Power Ranger I spy?
With the resurgence of the fighting genre we have seen many great releases like Blazblue, the rerelease of Marvel Vs. Capcom 2 and the glorious return to Street Fighter greatness that is Street Fighter IV. Out of the games listed Tatsunoko Vs. Capcom plays a lot like a simpler (in terms of controls) version of Marvel Vs. Capcom 2. Instead of the traditional 6 button configuration that fighters like Street Fighter IV and Marvel Vs. Capcom adhere to Tatsunoko Vs. Capcom trades in that traditional configuration for an unorthodox 4 button control scheme that includes a weak attack, a medium attack, a heavy attack and a partner call. This means that the game does the punches and kicks for you depending on which direction you are holding; this makes it fairly easy to pull off some decent combos. Sounds simple enough, yet somehow, Eighting was able to add a fair amount of depth to this basic control scheme.
If a Crossover Aerial Raid sounds like it may be fun to try and pull off then you would be right. You could also try to to pull off an advancing guard which will allow you to push an attacker back while blocking giving you a chance to breathe and start your own offensive. There are also Mega Crashes that you can do that will knock an opponent back mid combo at the expense of two hyper bars and a little bit of health. Then there is the Baroque system, which allows you to gamble your red health(which you usually regain while the player is not in combat)to extend combos and do a little more damage. The Baroque system adds a lot of depth to the fighting system and if you can combine it with an aerial raid (crossover or not) and a hyper combo you can do some really devastating combos. Speaking of hyper combos, if you have played Marvel Vs. Capcom 2 then you would know what Tatsunoko vs. Capcom looks like in terms of hyper combos except that Tatsunoko vs. Capcom is even more over the top and hypers look even more devastating.
This special looks kind of familiar
This is one of few fighting games where I had fun playing as every playable character. There are some of the more noticeable fighters like Ryu and Chunli from Street Fighter and the more obscure characters like Tekkaman from Tekkaman and Casshan from Casshan. Then there are two characters whose inclusion still puzzles me and yet they are still very fun to play as. Those two characters are PTX-40A from Lost Planet and Gold Lightan from Gold Lightan. Both characters are large robots that take up a significant portion of the screen and deal out an even more significant amount of damage. Since these characters are so huge picking either one counts as two playable characters so you will never be able to swap out if their health is getting low. In the hands of a competent player these big boys should be no problem to bring down.
There are not many modes to choose from besides the standard Arcade, Survival, Training, Time Attack and Versus modes. Playing and beating arcade will give you a custom made ending for each character, some of which are rather hilarious. If Single player does not satisfy your needs and you do not have any friends at home to beat up on then you can always hop online and duke it out in ranked and unranked matches. I must give credit to Capcom and Eighting because they have made a very smooth online experience on Nintendo's less than stellar online service. Global and local matches run pretty smoothly as long as you have a decent connection. The only bad thing about the online is that the matchmaking is pretty spotty. Sometimes you might be faced against an opponent that is near your skill level and other times you will be put up against players that seem like they should be playing in tournaments. If online does not satisfy you there is also an unlock-able mini-game you can play that plays like an old school top down shooter.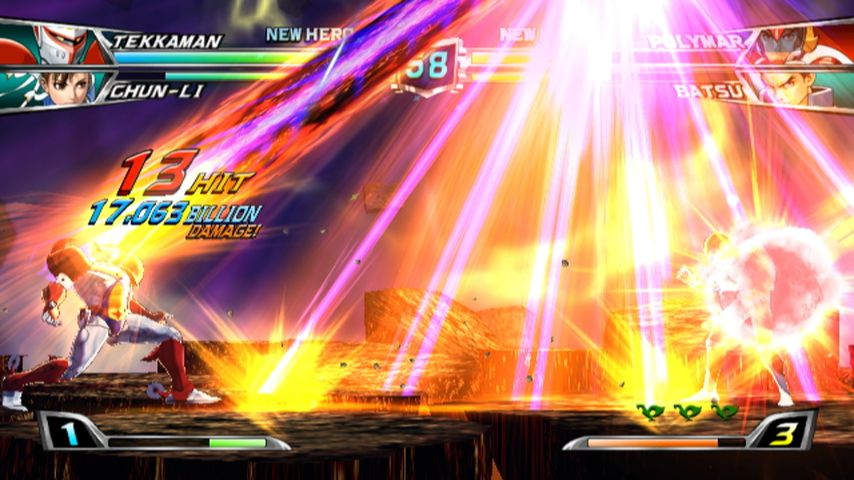 This game looks good, but that looks like it hurts.
Aside from general gameplay, I must add that Tatsunoko vs. Capcom is one of the best looking Wii games to date. The animations are fluid, the character models are simple yet effective and the environments are pretty well detailed and every hyper combo is a true treat to watch. The music and audio is pretty well done also. I often find myself picking the Willamette Mall stage because I love the music so much. The Japanese voices fit the characters quite nicely, but that goes without saying.
Tatsunoko vs. Capcom is not only an excellent fighting game for Wii, but it would be an excellent fighter for any platform. The game is deep yet accessible and has very tight controls which should make any fighting fan jump with joy. There are some obscure characters in this game, but they are all fairly unique with their own move-sets and are quite fun to play as. Couple that with good graphics, multiple control schemes and online play and you have the recipe for a winner. Now hurry up and bring me Tatsunoko vs. Capcom 2 Eighting! And this time you better not forget the Samurai Pizza Cats!
Thanks for rating this! Now tell the world how you feel via Twitter.
How does this post make you feel?